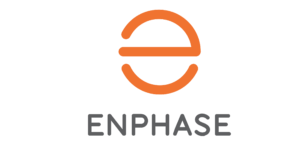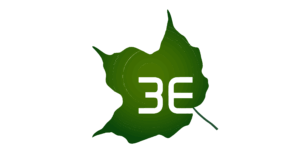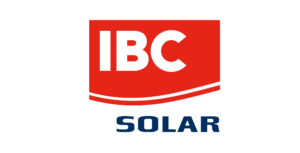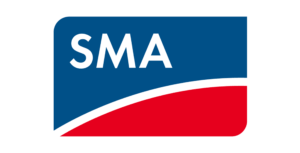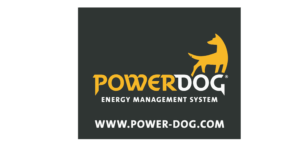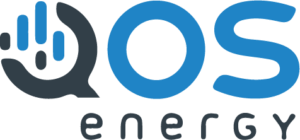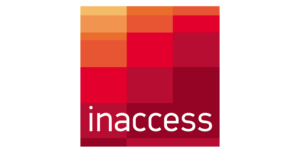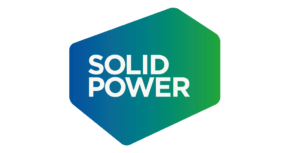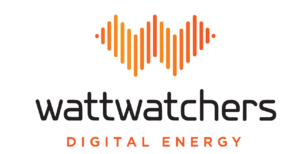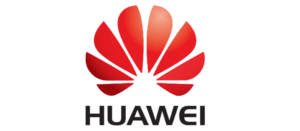 Showcase energy to the public
Tell your sustainable story and showcase your building's green energy
Solarfox® displays visualize energy data from renewable energy sources
and solar power systems in commercial or public buildings.
Our public solar displays support many of the world's leading solar Monitoring Systems and Data Loggers. Therefore, not only are different inverter types able to be visualized, but cross-vendor visualization is also a possibility, regardless of location and number of systems. 
Solarfox® helps you lead by example and boldly makes your contribution to sustainability and climate protection evident.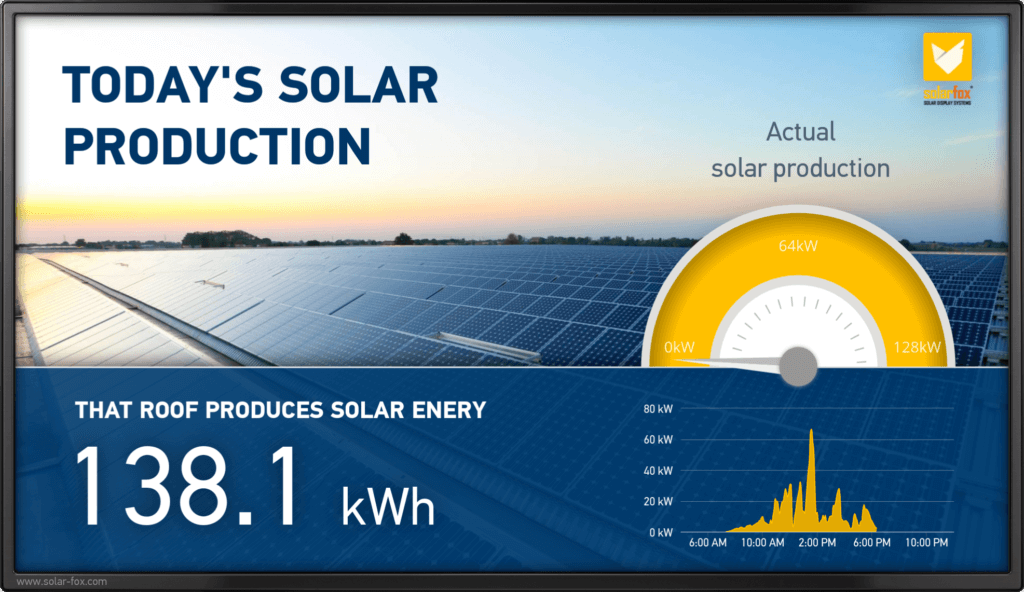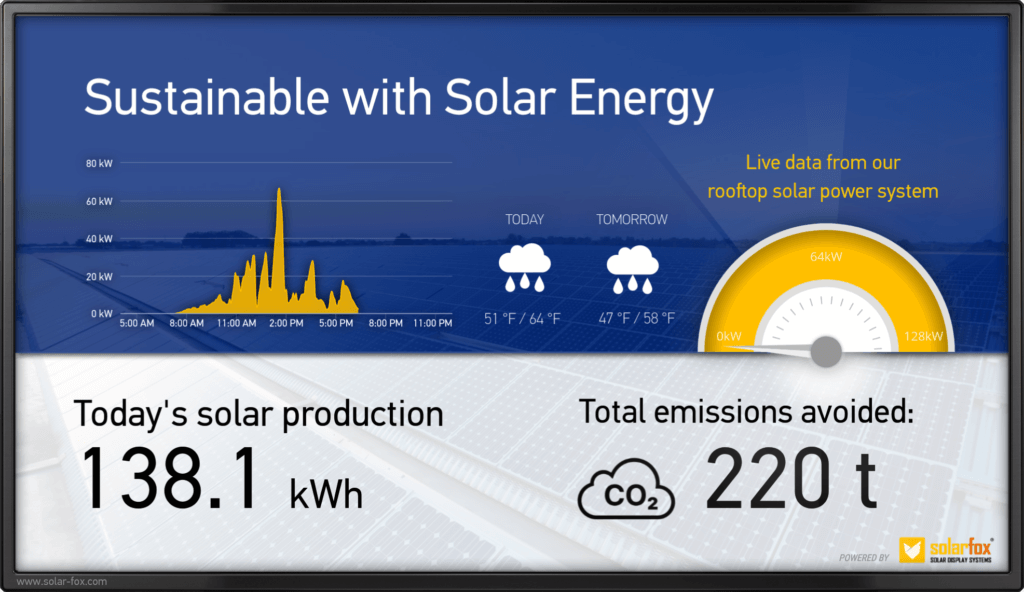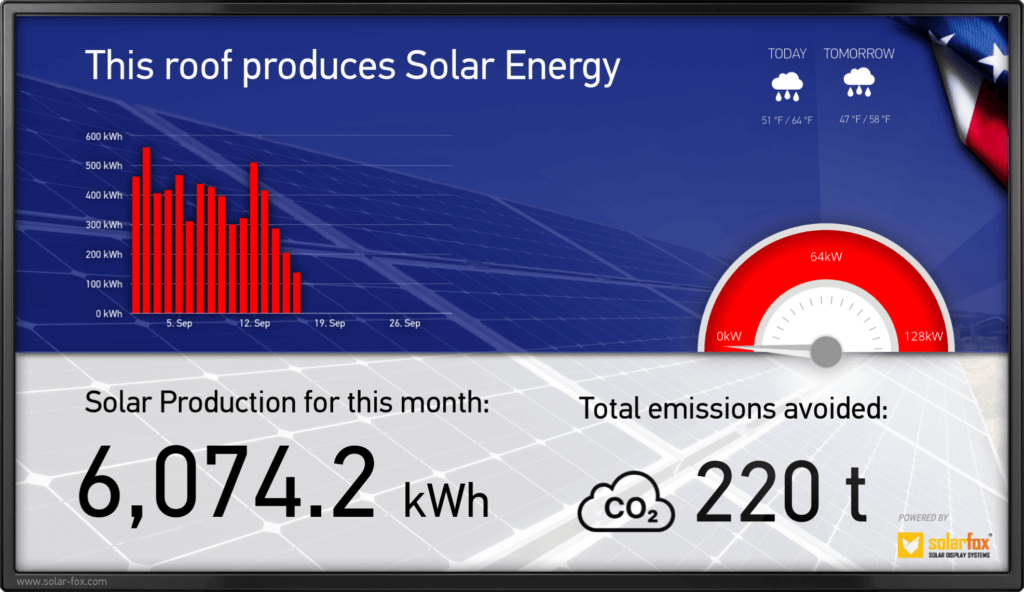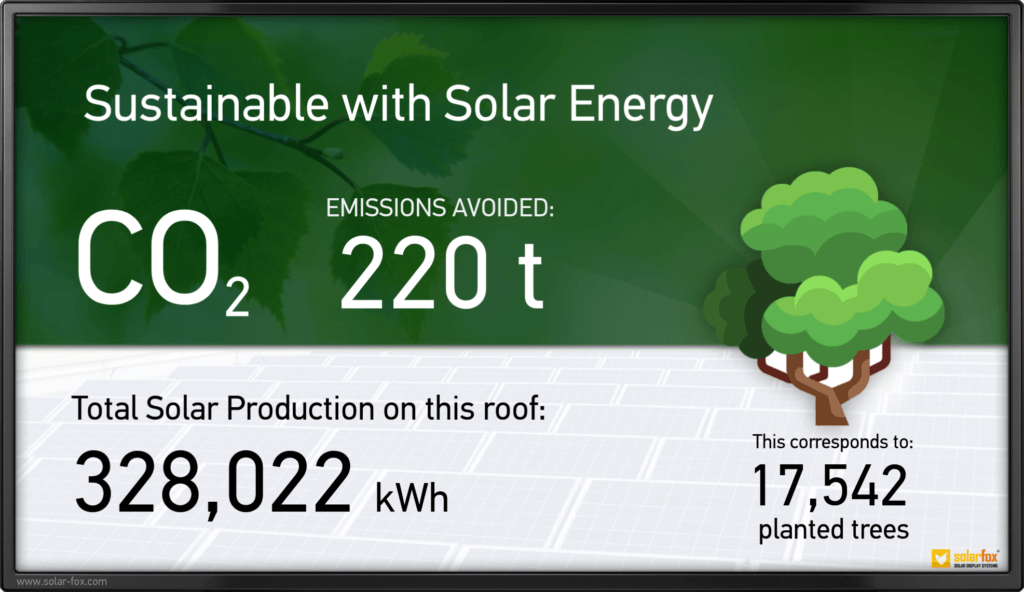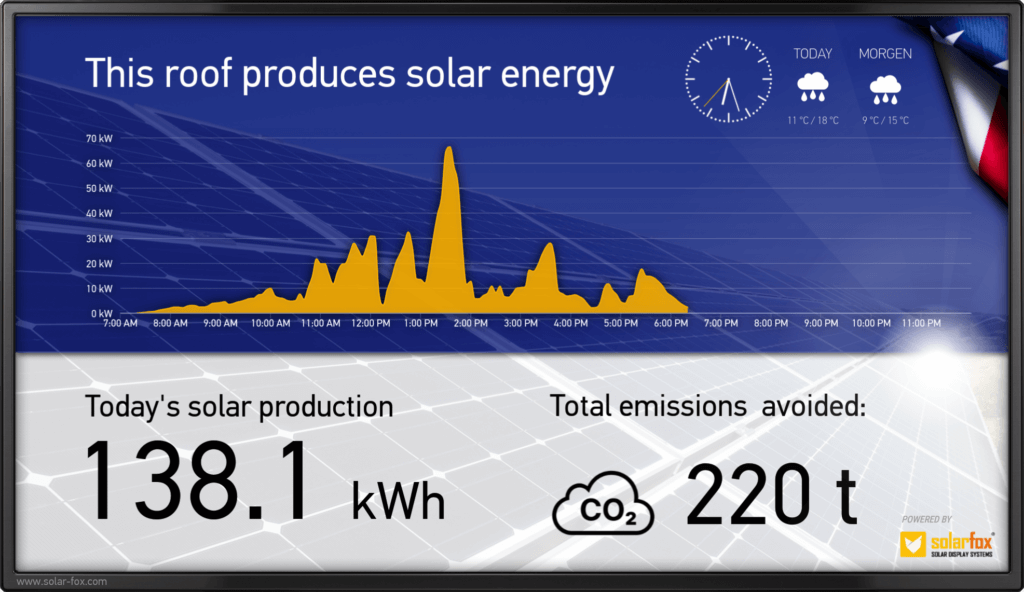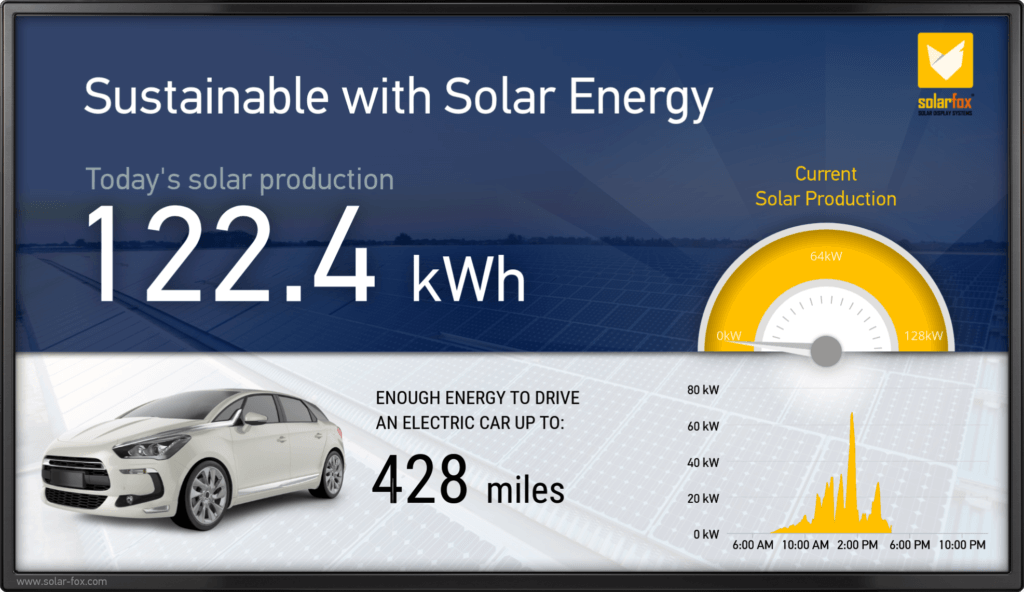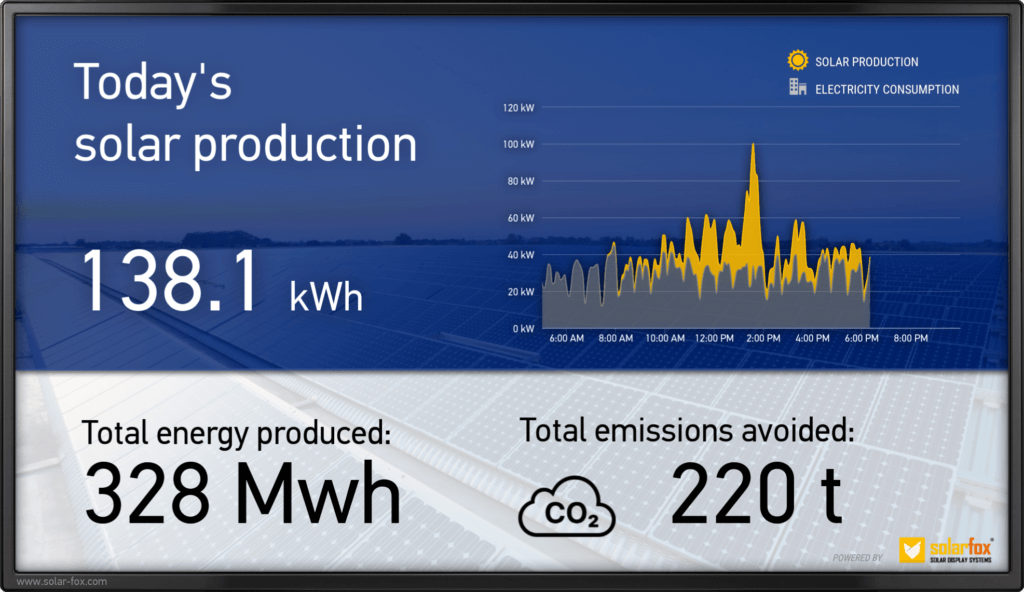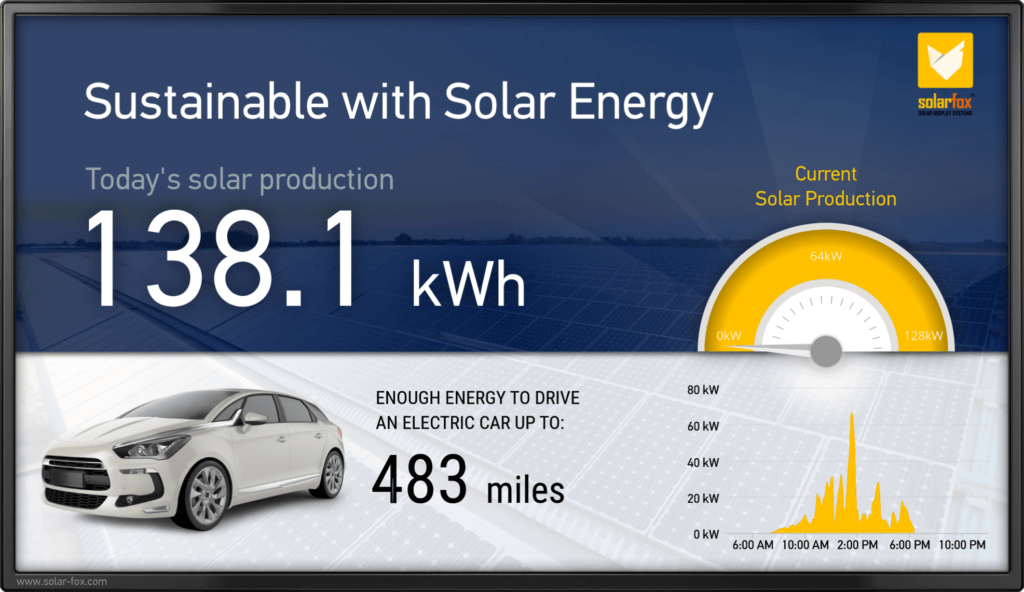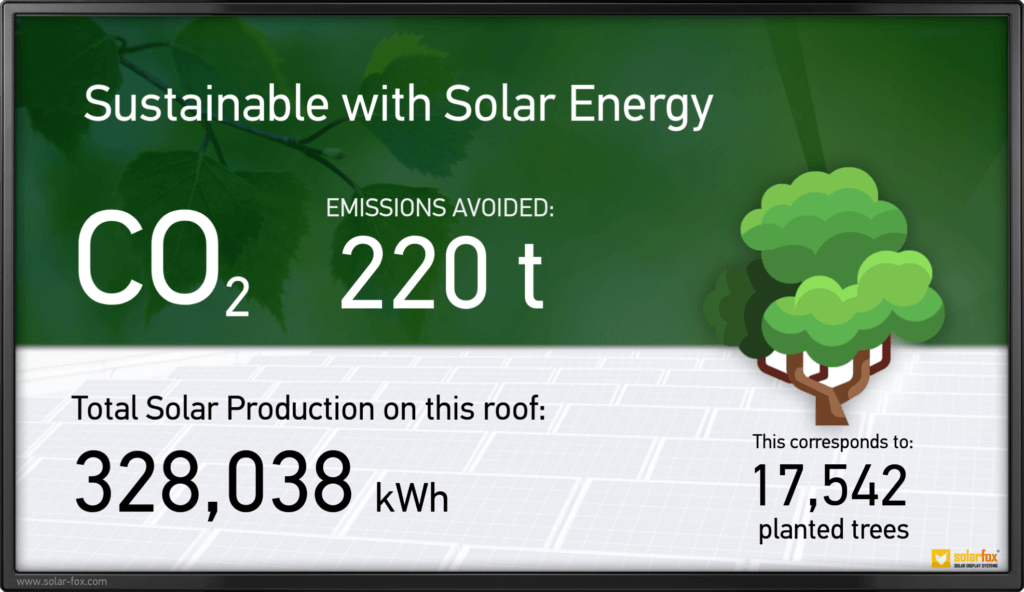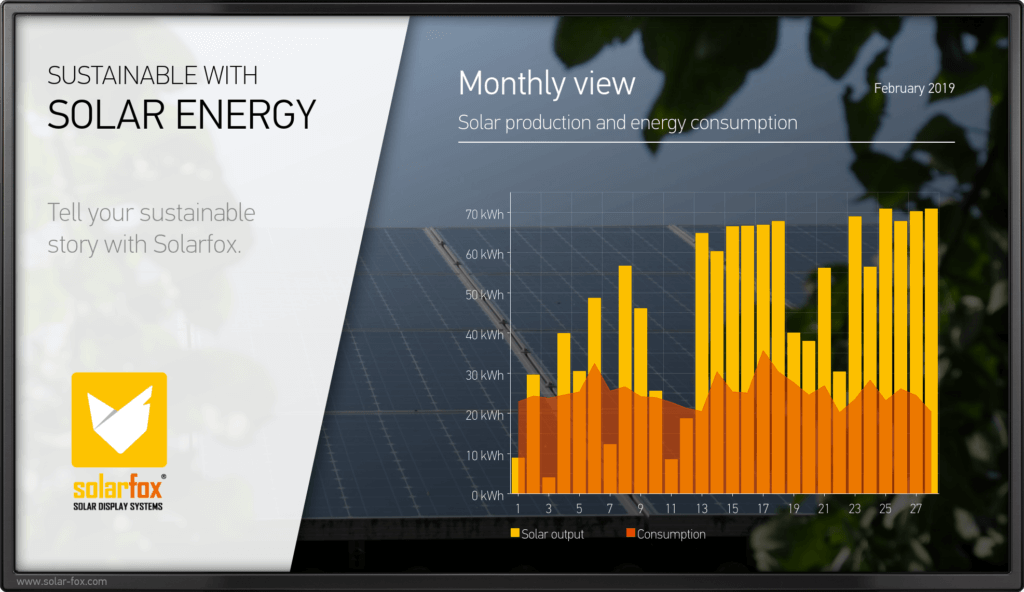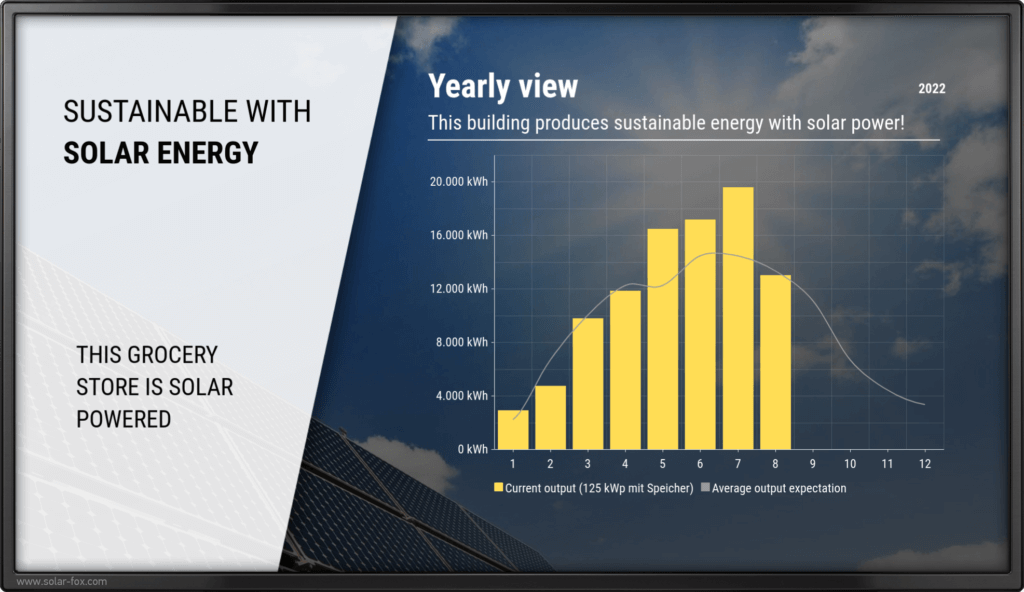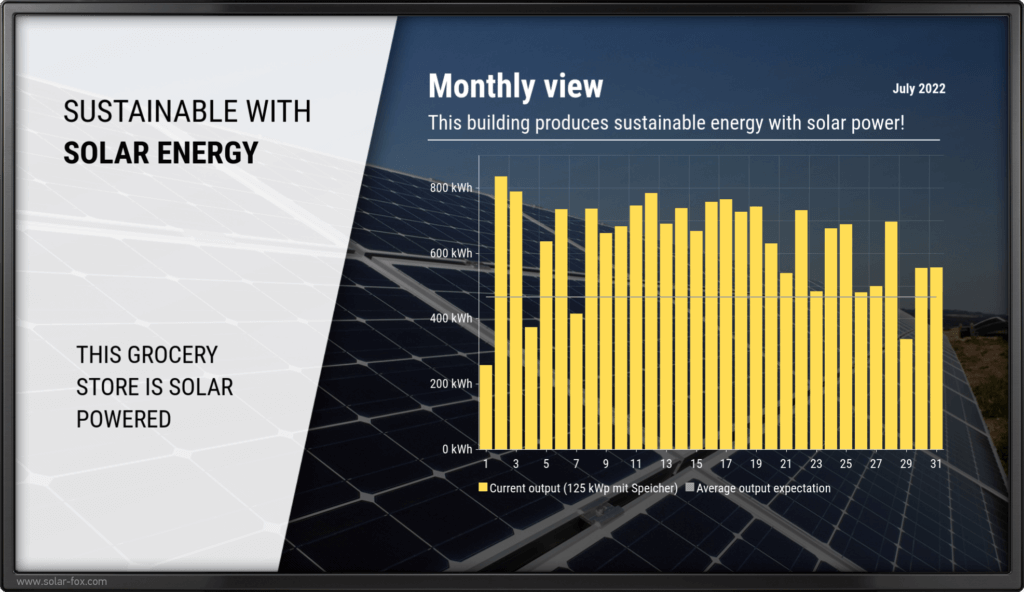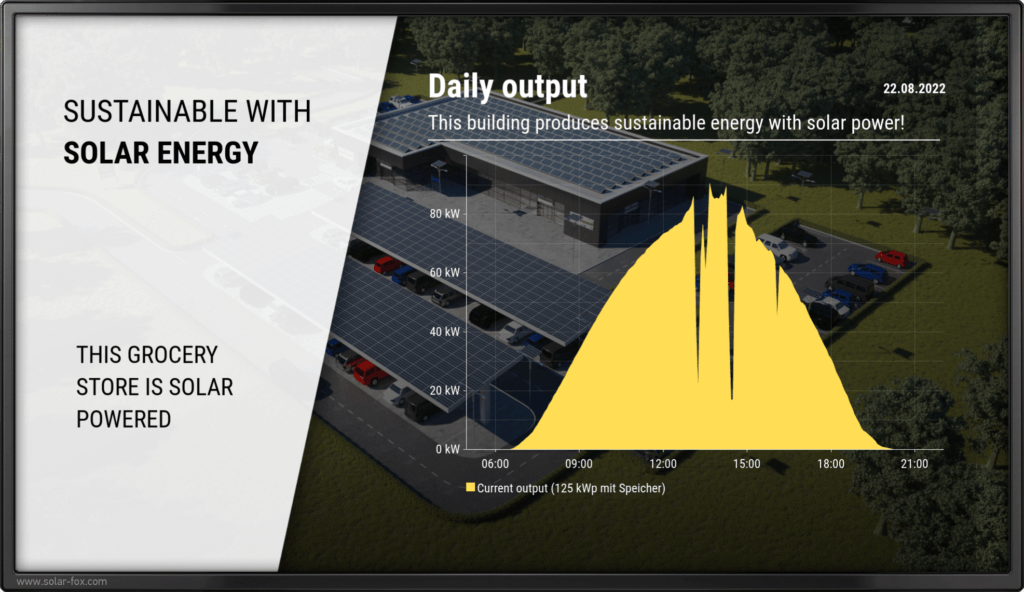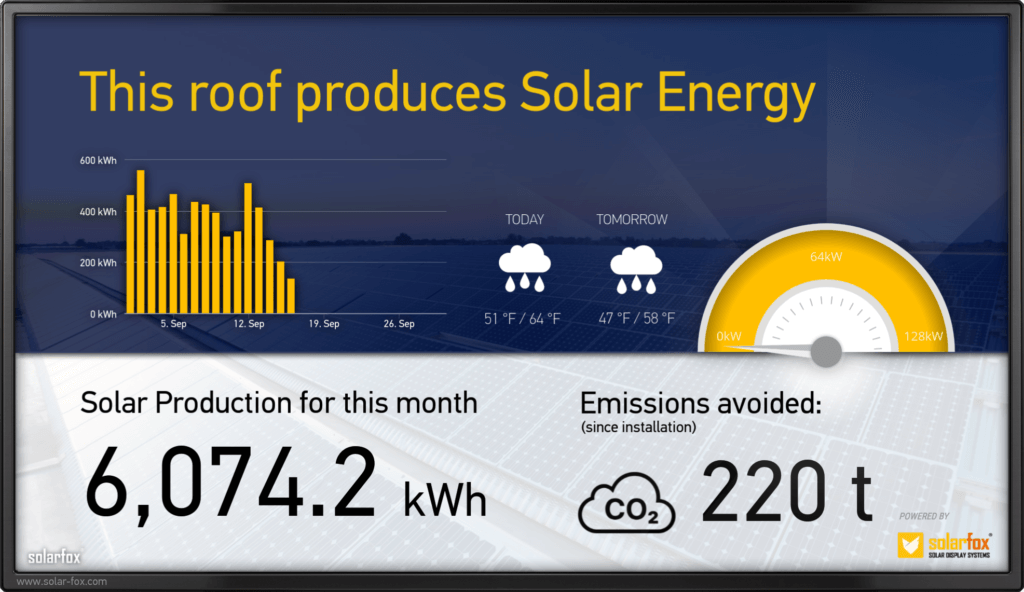 Organisations
With the help of Solarfox displays, companies can visualize and advertise their sustainable consciousness.
ENERGY SUPPLIERS
With the help of Solarfox, energy suppliers can elucidate their commitment to the energy transition and use the solar display as an advertising space for their green energy activities.
COUNCILS
Municipalites or regional Councils communicate their commitment to renewable energies easily with Solarfox displays.
SCHOOLS
We take Energy Education further
Comprising of a full suite of child-friendly texts, pictures and figures, bringing data to life in the school and classroom has never been made easier.
CHARITIES
Collective intelligence delivers greater sustainability: Its important to demonstrate sustainable energy, therefore the Solarfox display is a perfect instrument for any kind of information.
CLUBS AND SOCIETIES
With Solarfox displays societies visualize their important contribution to the future of energy and climate protection.
The first impression matters
showscase your statement for sustainability with solarfox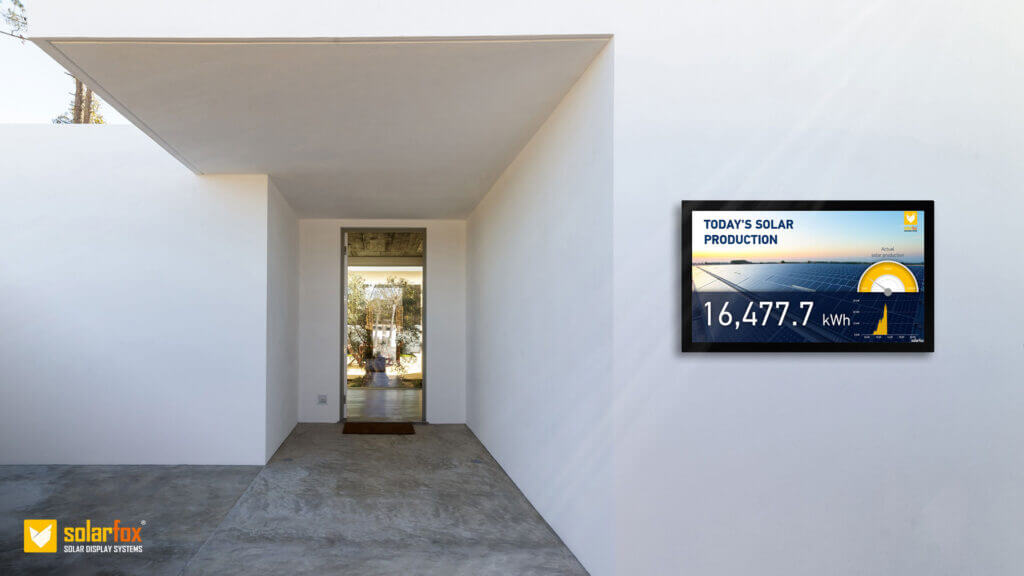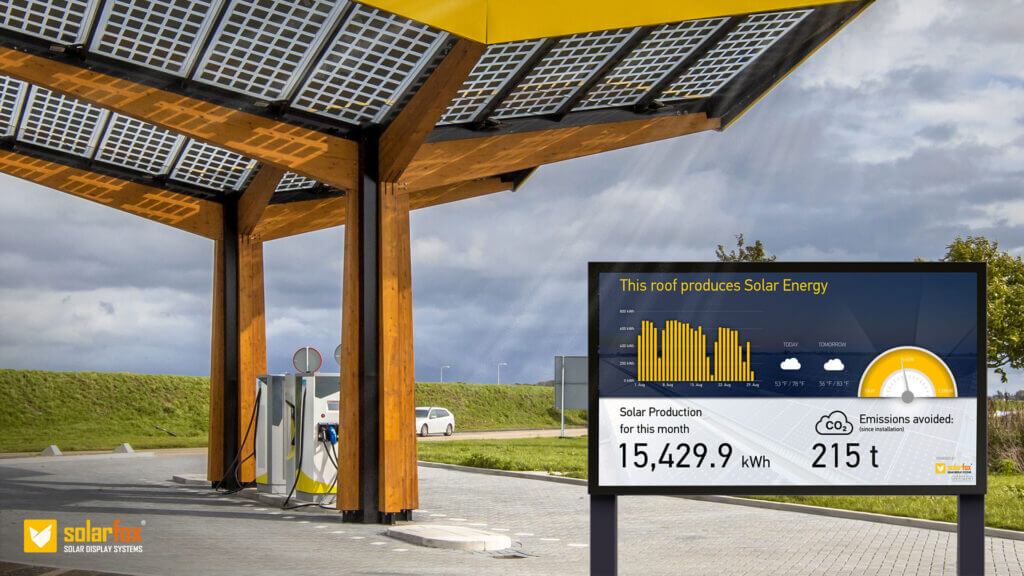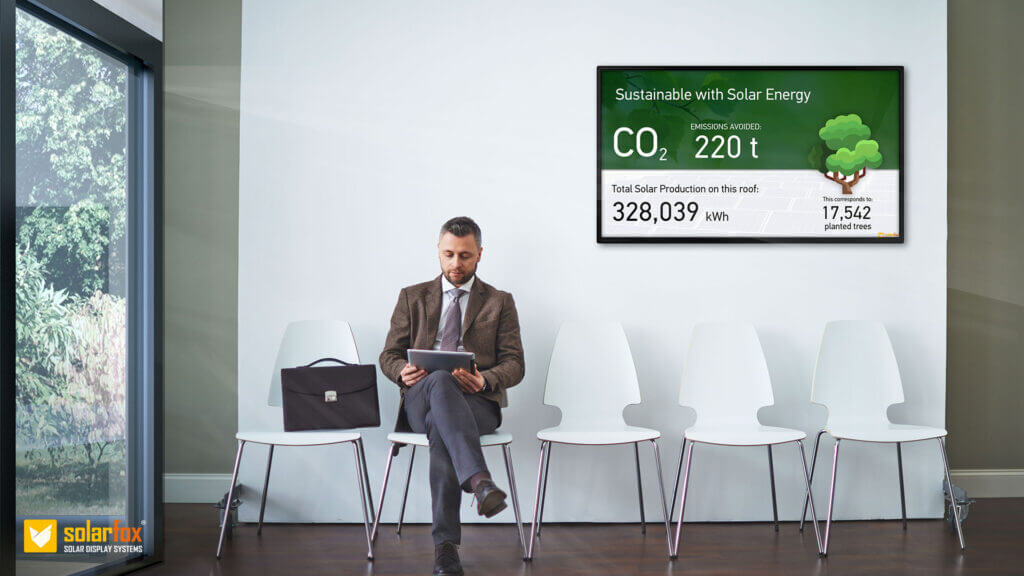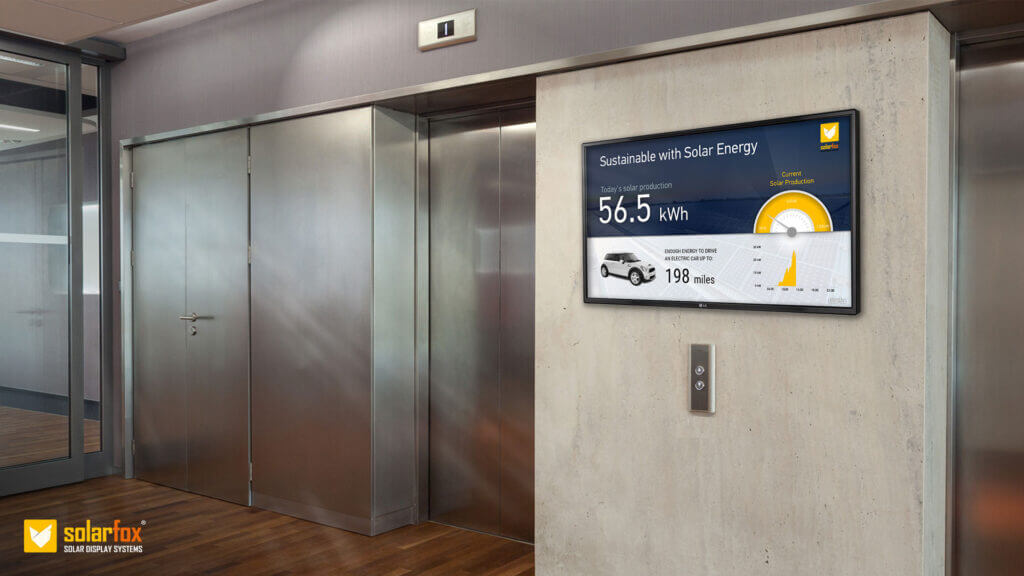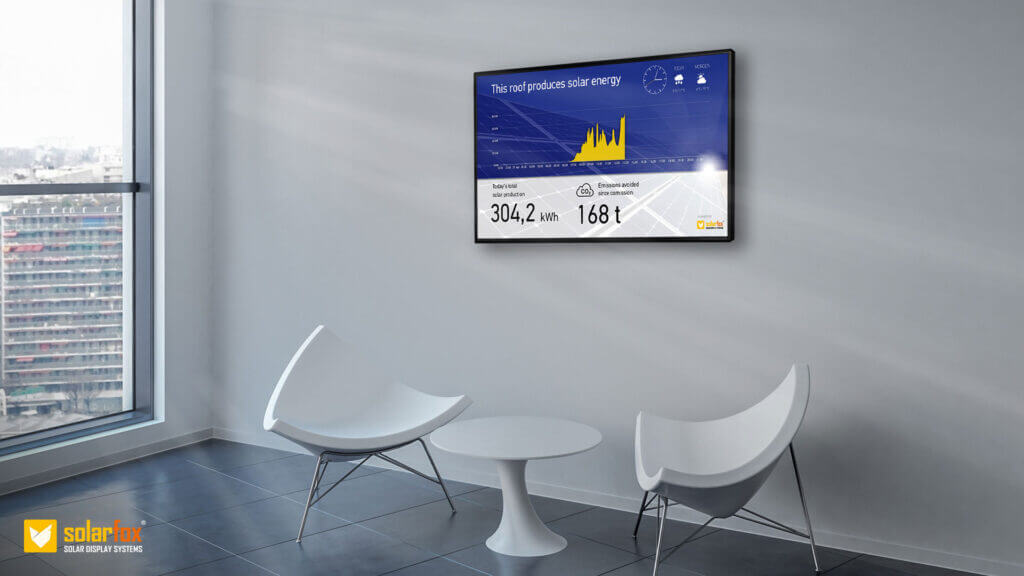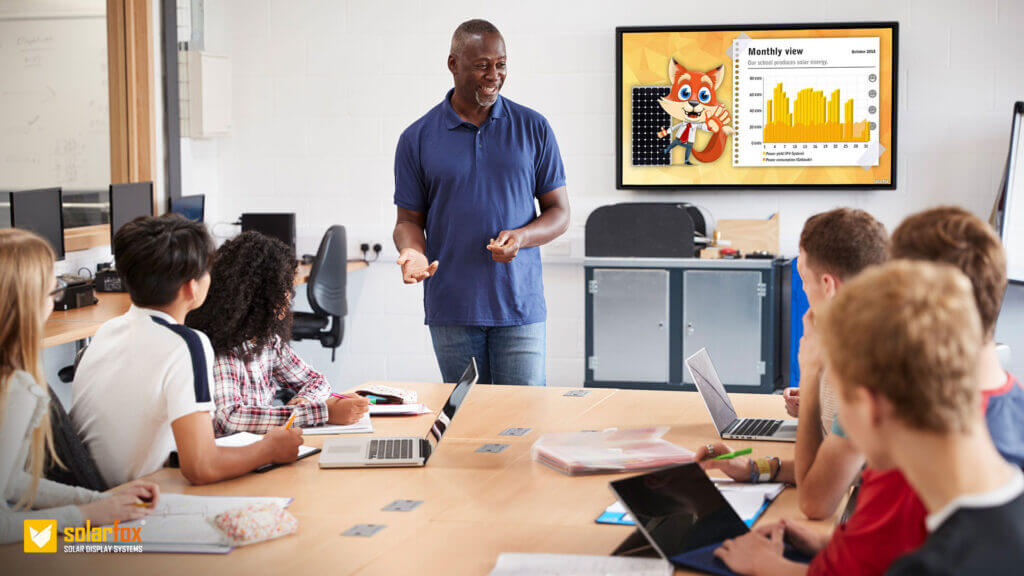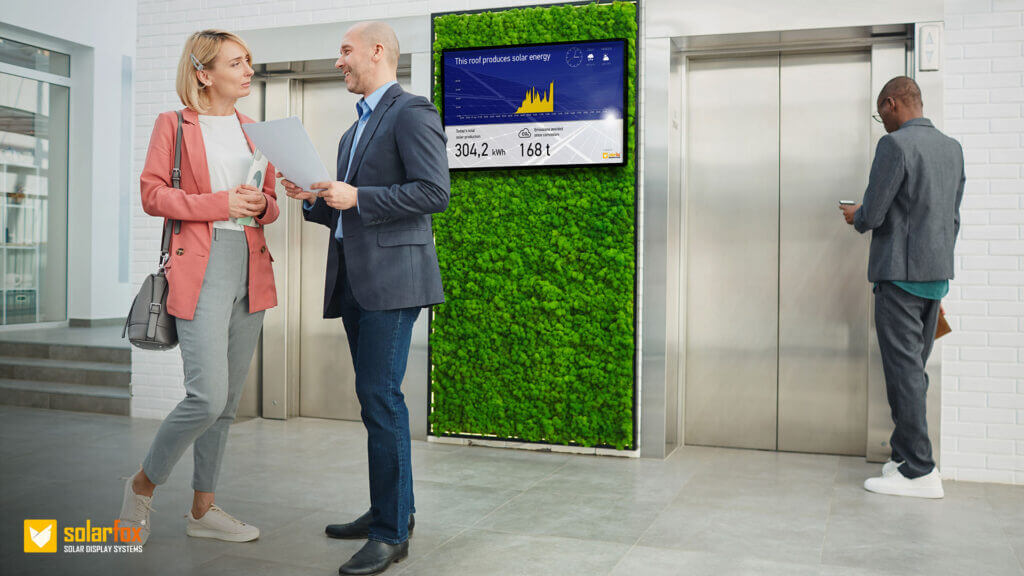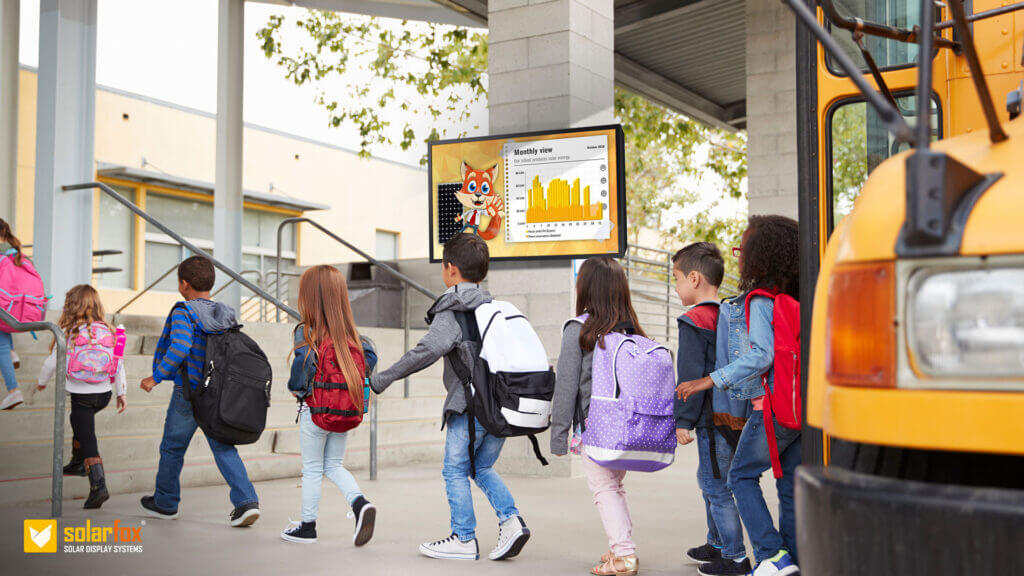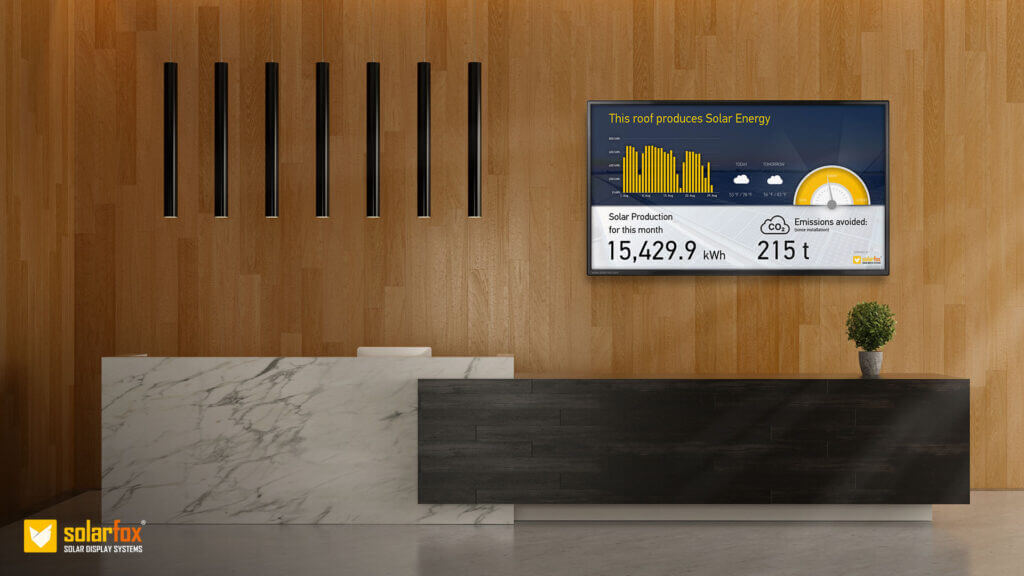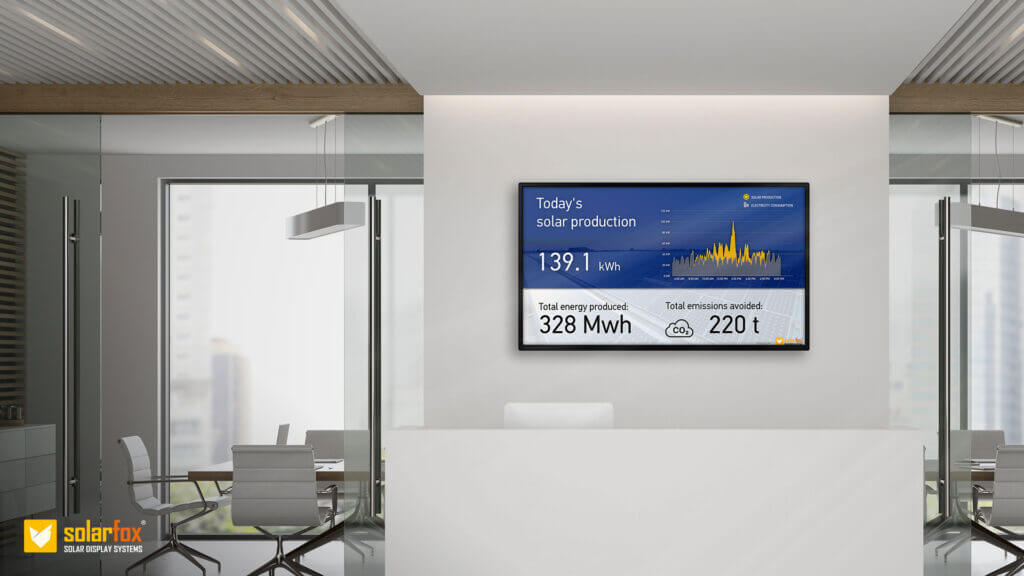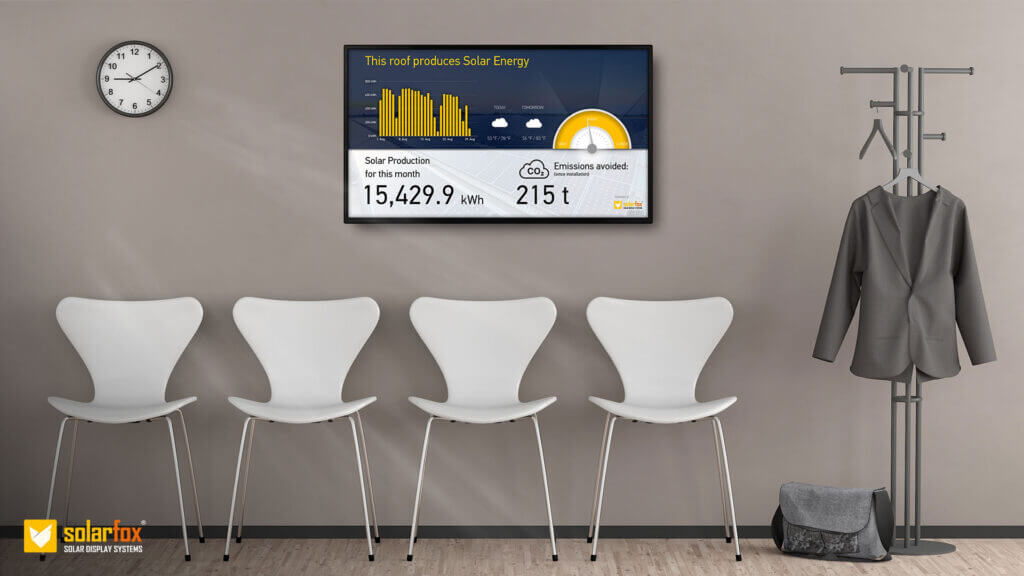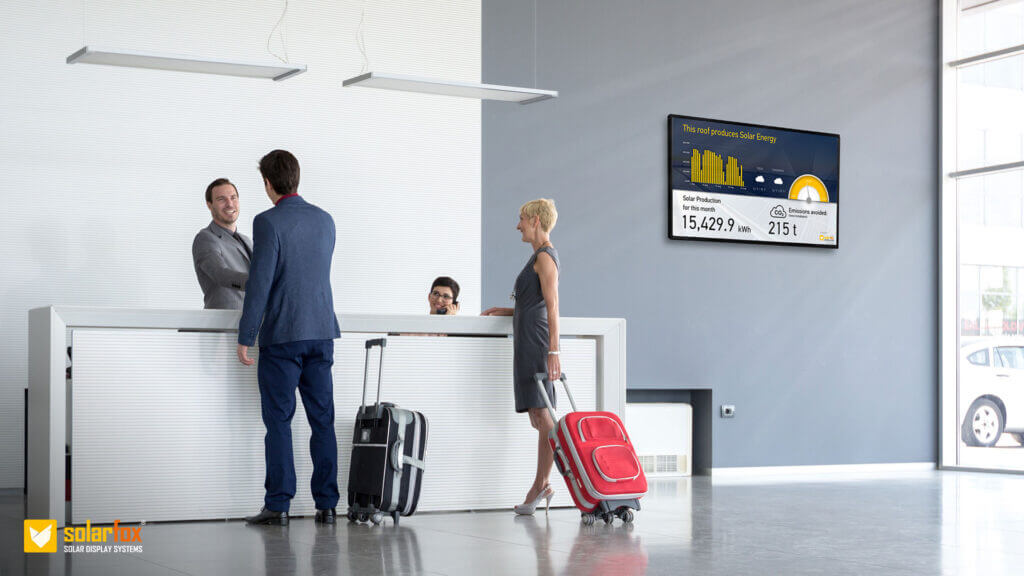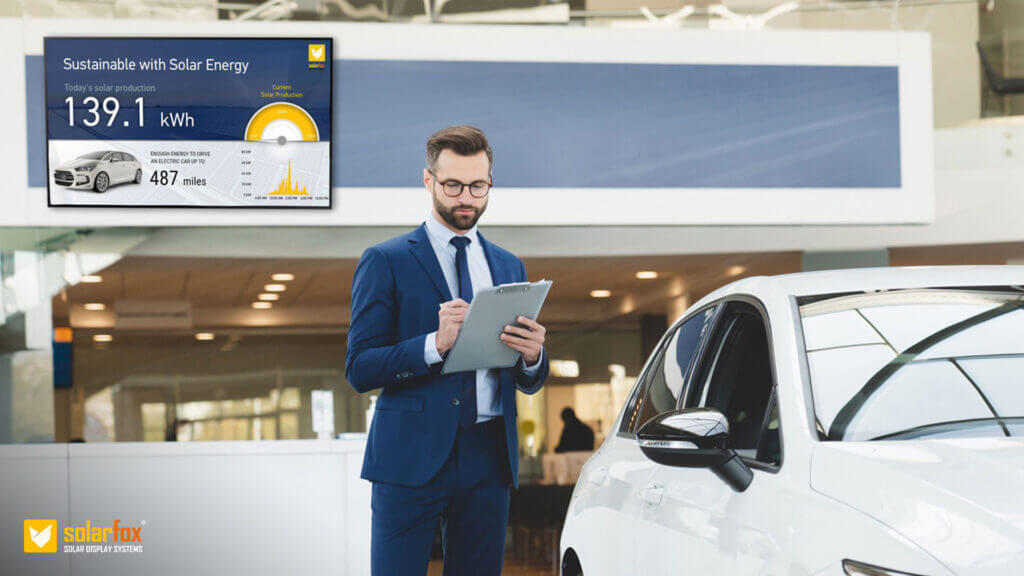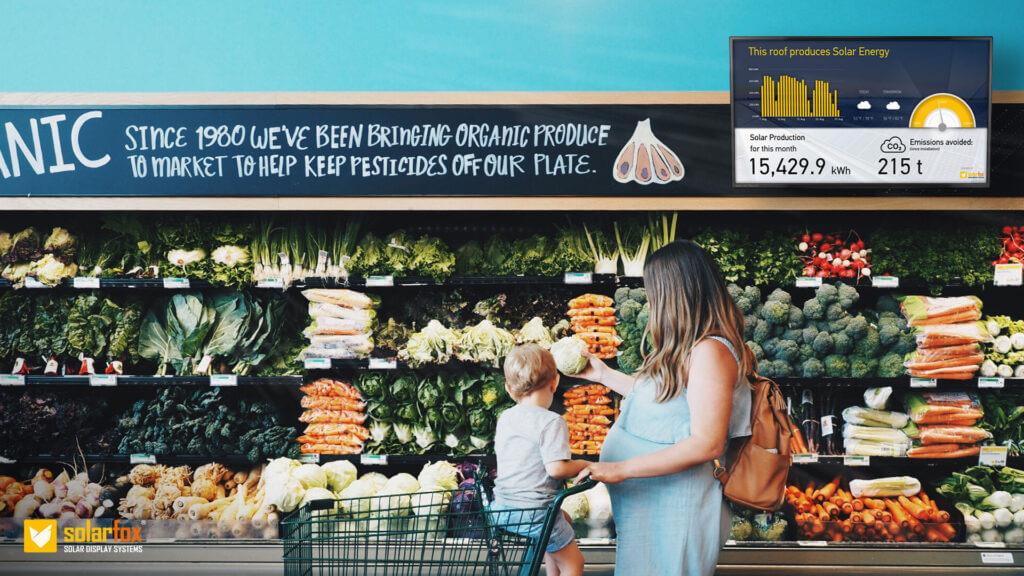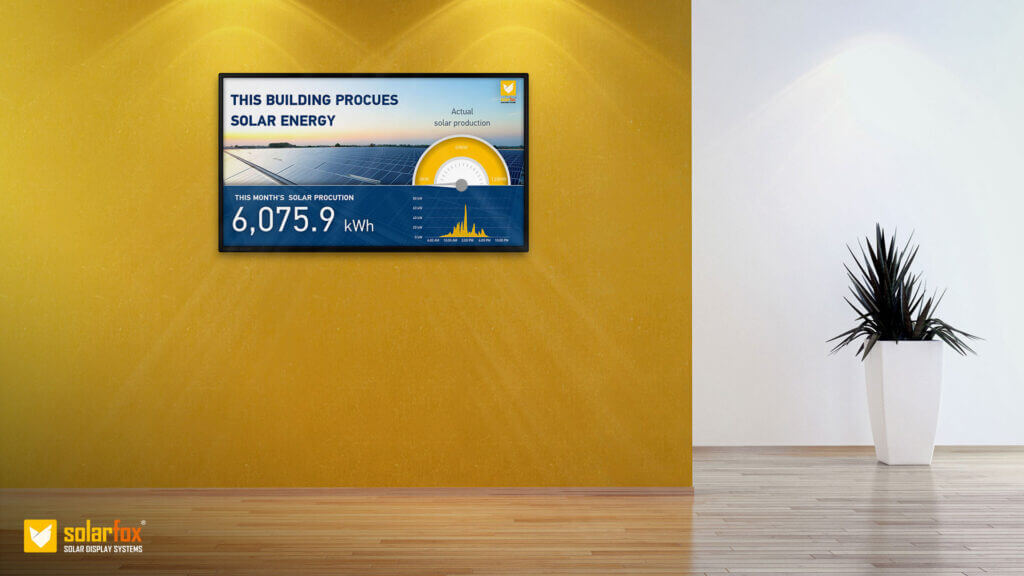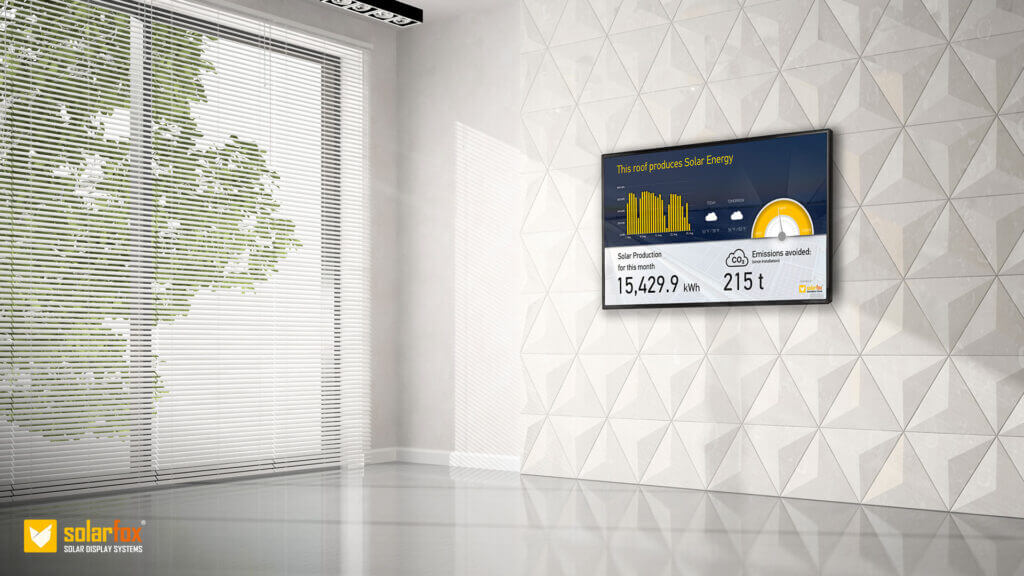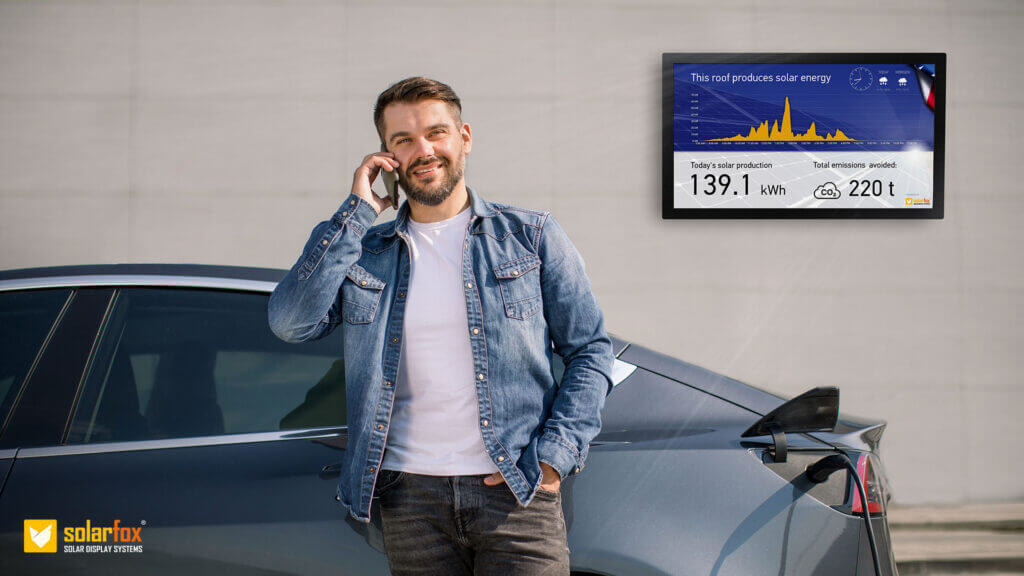 Solarfox® SF-300 | 32″ – 55″
The SF-300 series is characterised by robust hardware with a high functionality range. The displays can be operated up to 24 hours a day or turned on and off via a timer function. The displays also support animations and video files in MP4 format.
The new SF-600 series is equipped with a robust waterproof IP56 housing. A high-quality anti-reflection glass with an extra layer of protection against vandalism and calibrated for outdoor daylight condistions with high brightness levels make the Solarfox Outdoor series an eye-catcher.
Frequently asked questions
IS MY PHOTOVOLTAIC System SUPPORTED?
Solarfox supports an ever-growing list of the world's most popular brands of pv systems and pv monitoring tools. To see if your plant is included, please search for it in our list of supported interfaces 
Are there any Subscription Fees?
With the purchase of a Solarfox(c) Display, everything needed to get your PV-plant ready and presented for your clientele and passersby are included from its initial purchase. We also offer additional premium content for your slideshows and Solarfox(c) account with one time purchases.
The exceptions to this include datasource connections to certain PV-Suppliers and our Webpublic Package. To see if your plant requires a subscription fee, please check here.
HOW LONG DOES INSTALLATION TAKE?
Installation typically ranges from 30 minutes to 1 hour if the Display needs to be wall-mounted. Setting up the display requires an internet connection and a USB keyboard to complete the setup.
WHAT IS THE WARRANTY OF THE DISPLAY
Warranty of the Solarfox Product is 2 years for the mini-computer and 3 years for the display from the date of purchase.
Terms and Conditions apply.
Besides this, we offer all of our clients lifetime support and assistance for all devices regardless of age.
IS THE SOLARFOX SOFTWARE AVAILABLE BY ITSELF?
As of right now, there are no plans to offer our software solutions stand-alone. Due to its current implementation, a Solarfox Display is required for the running of all functions on our Online Management Portal.
ARE THERE ANY ADDITIONAL REQUIREMENTS?
Once your plant can be found on the PV-Supplier's online portal, it should be sufficient enough to make a connection, but it may be necessary to perform additional steps to acquire an access key to your PV-system's online portal. Please contact us to see if your connection requires additional steps.
Our cloud-based online platform provides remote Access to your Solarfox® devices at any time, any place.
High flexibility and ease of use means that our platform is accessibly by anyone without technical knowledge. 
All content can be adapted to the needs of the user. In addition, your own content, messages, images and videos can be added. There is also a large number of templates available. You can also make use of our pre-made templates as well as insert your company logo. It is easily operated by means of a convenient online management via a web browser. 
All you need is an Internet Connection.  
COME SEE FOR YOURSELF

A solar display and an innovative bulletin bord
Solarfox® displays can, not only visualise energy production, but can also be used as an innovative bulletin board. You can display your own text and images with just a few mouse clicks.
Whether animations, external HTML pages, logos, etc., operation is child's play and can be done from anywhere. In no time, the solar display becomes an innovative bulletin board for all kinds of information.
R

Individual content for additional information like advertising and offers (Ads, etc.)

R

High flexibility with regard to the photovoltaic components used. (All leading monitoring systems and common inverters are compatible.)

R

location-independent, secure, remote access

R

Fast Installation and low maintenance Costs

R

Fast and easy changeable Content to fit your Needs.
100% customizable – simplified!
All major parts can be adapted to your needs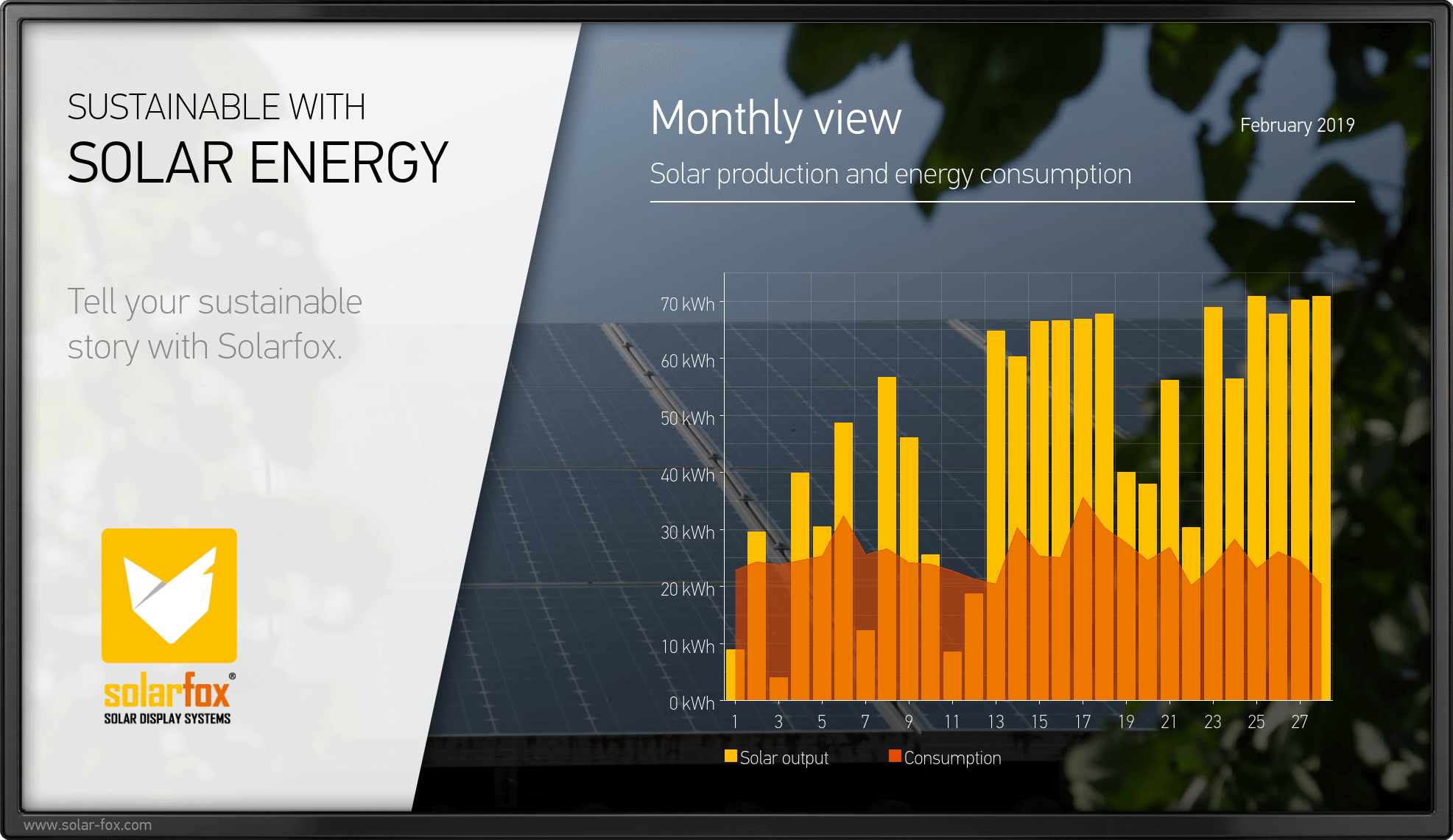 Upload your own background images
Extension of data sources