LARGE DISPLAYS FOR EXTERNAL AREAS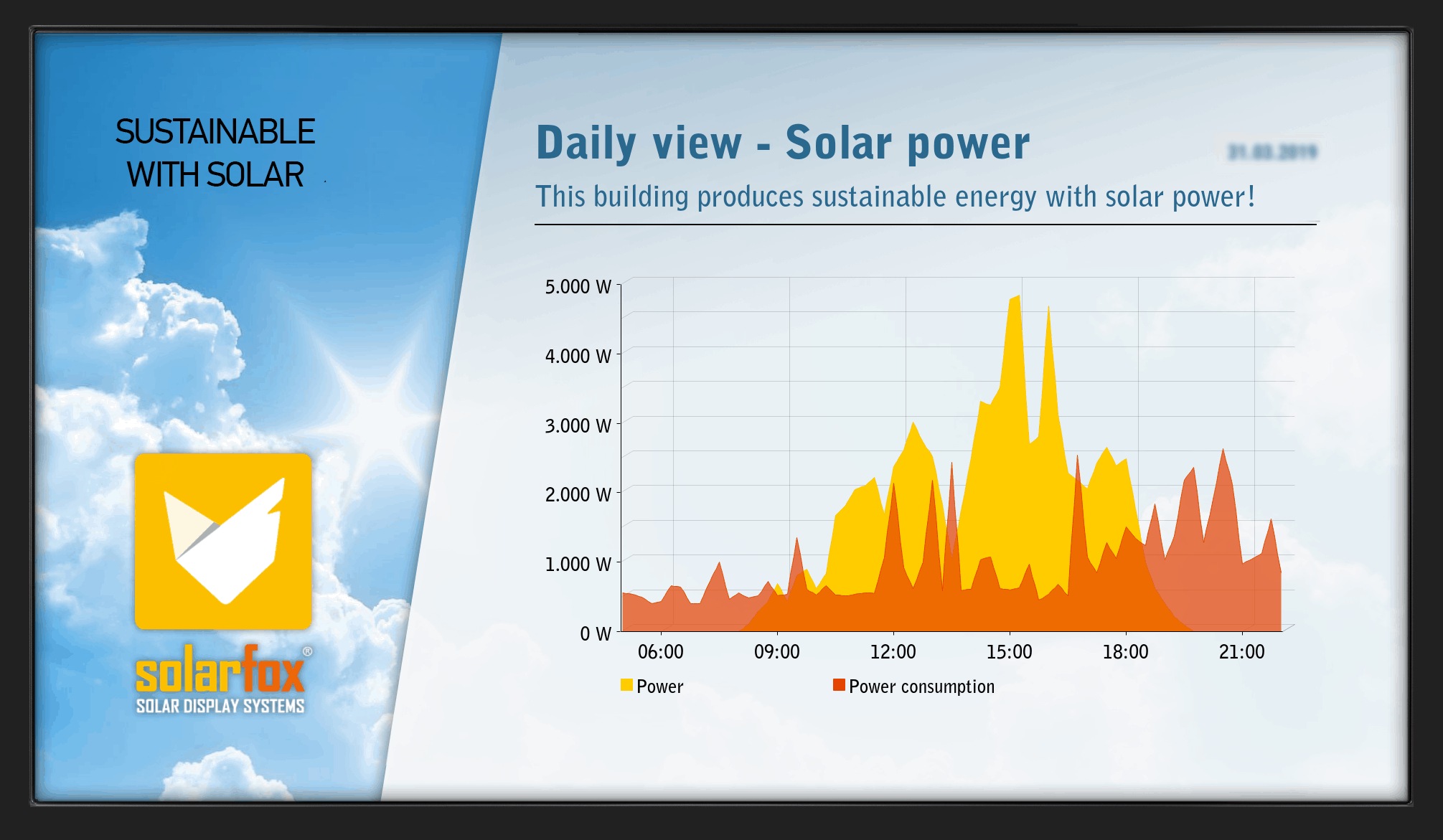 AREAS OF APPLICATION
The new SF-600 series is equipped with a sturdy IP56 outdoor waterproof enclosure. A high-quality anti-reflection glass with vandalism protection, as well as a very high brightness for use in bright light conditions make the new Solarfox Outdoor series an eye-catcher. The display has a modern cooling system with a filterless heat exchanger.
product scope
SAMSUNG high-brightness LED monitor
SOLARFOX® Connection Kit with control computer SC-2000 and software
0 ° wall bracket with theft protection
Cables and accessories
Internet connection (LAN, WLAN)
Online management
individual content and information
Ideal for all weather conditions
Temperature resistant from -30 ° C to +50 ° C
Future at eye level | Expressive and innovative
The SF-600 series is designed for outdoor use and especially for use in bright daylight environment. For this purpose, the devices have a very bright panel, which adapts to the ambient brightness. An anti-reflective coating also allows viewing with polarized sunglasses.
The monitor can be used directly in the field without further protection. The monitors have a sturdy vandalism protected front glass and a sturdy frame. In this way, external influences of up to 20 joules can hardly affect the display.
The displays are suitable for 24/7 use, withstand outside temperatures of -30 ° to + 50 ° and are protected against ingress of water and dust (IP56 classification). The filterless and patented cooling system regulates itself automatically. A crisp image reproduction in intense light conditions enables a high contrast rate of 5,000: 1 and a brightness value of up to 2,500 dc / m² (TÜV-certified image quality). A brightness sensor adjusts the screen brightness to any condition, ensuring optimum energy and reading conditions.
highlights
IP56 certification
Temperature resistant from -30 ° C to +50 ° C
High brightness: 2,500 cd / m²
Contrast: 5000: 1
High quality SAMSUNG technology
Automatic brightness sensor
Operating time 24/7 or timer function
Sturdy housing and vandalism protection
Anti-reflection glass
Filterless and low-maintenance heating and cooling system
Small case depth of only 8.5 cm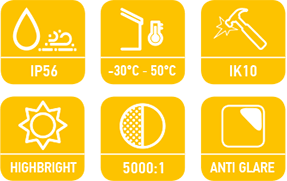 ONE-FOR-ALL
Compatible with almost all systems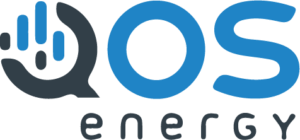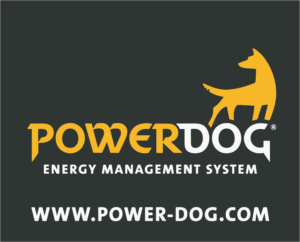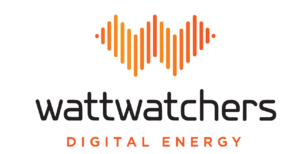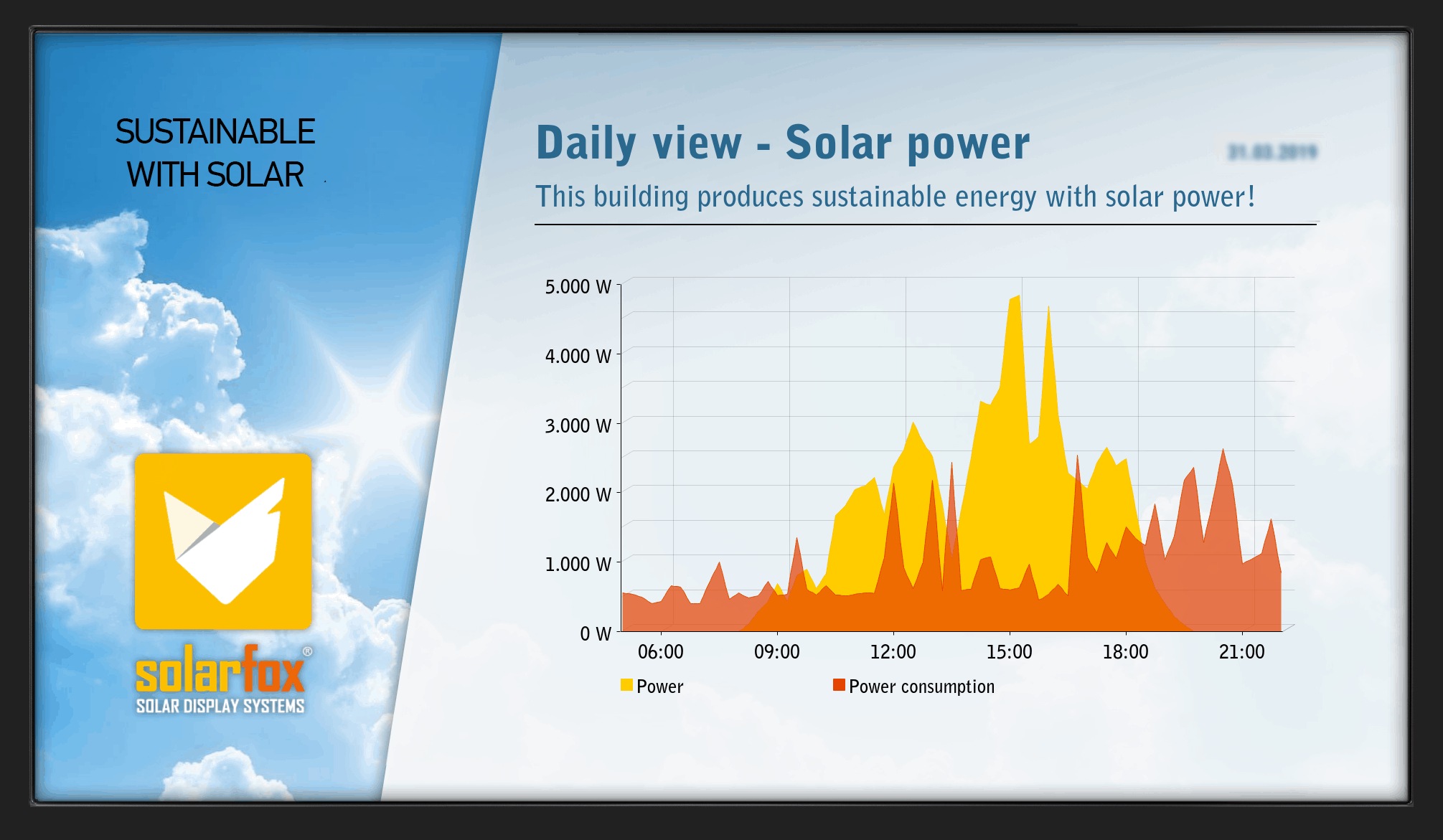 Compelling image motifs and colors for outstanding visibility
The content of the displays is easy to read even in bright light conditions. Depending on the ambient conditions, the display adjusts the brightness automatically. In this way, the display can even be mounted with a South or West orientation without problems. Due to the innovative Magic glass, the reflections are significantly reduced.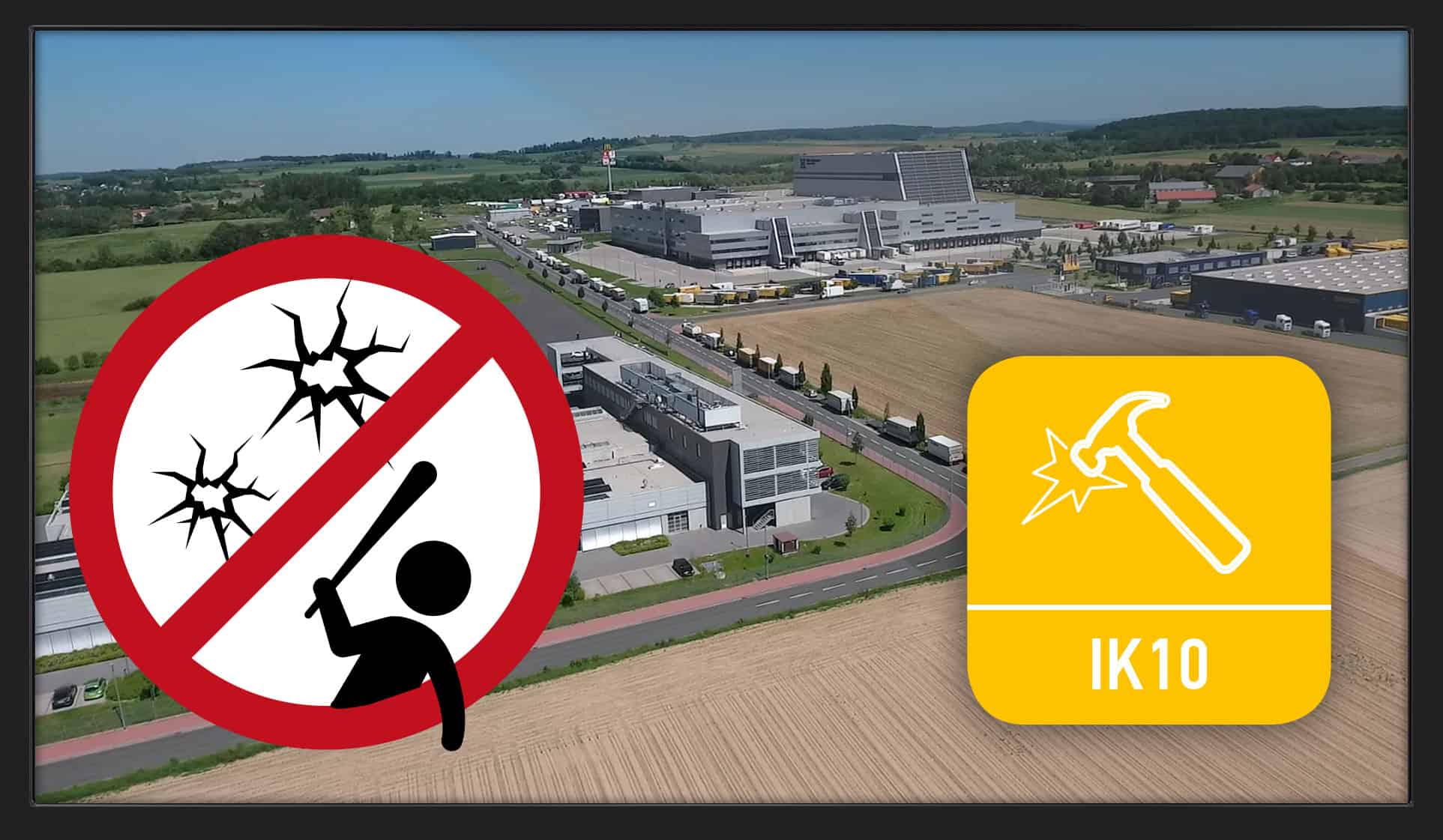 IK 10 Certification for sturdy protection against vandalism
Thanks to the advanced and 5mm thick, hardened Magic glass  a particularly high level of protection can be achieved. The glass is IK-10 certified (European level of impact resistance), which has the maximum level of strength and sturdiness of this international certification. In addition, a gap between the Magic Glass and the LCD panel prevents the panel from breaking if the protective glass should break. (* The IK Rating indicates on a scale of 0 – 10 the level of resistance to external force, with 10 indicating the highest level of protection, IK10 rating according to IEC 62262 Norm2)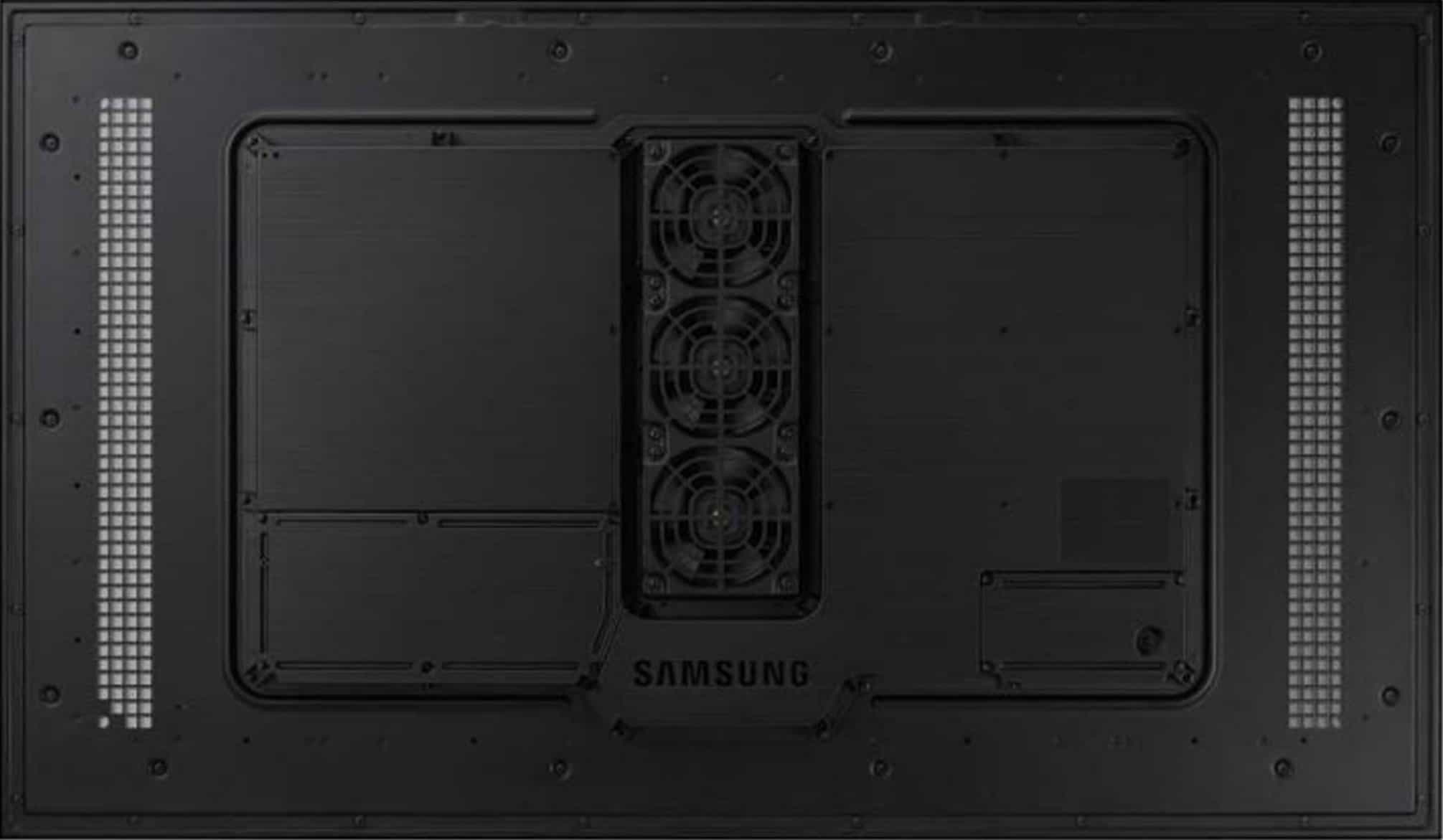 A self-cooling system that needs neither a filter nor maintenance
The models of the SF-600 series have a modern cooling system with heat exchanger, which is supported by an advanced thermal control function. The filterless solution also favors overall efficiency and reduces maintenance and costs. The system revolutionizes the previous housing design and eliminates the need for thick metal and climate enclosures, which are usually fitted with LED monitors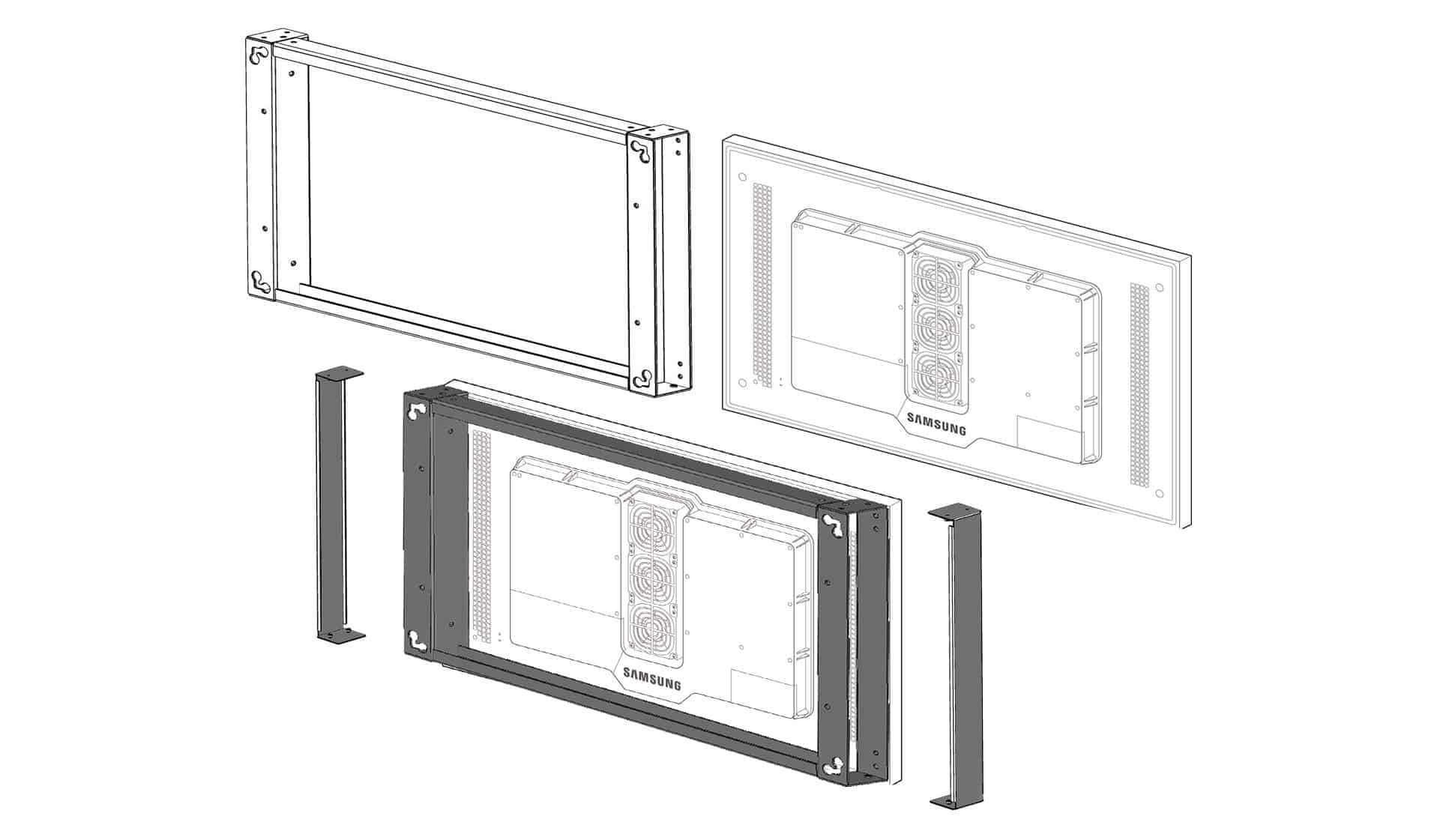 Easy Installation
The screens of the SF-600 series are delivered with a comfortable and sturdy wall mount. The bracket ensures a compact connection with the wall and protects the device from theft at the same time. For this purpose, an anti-theft cover was attached.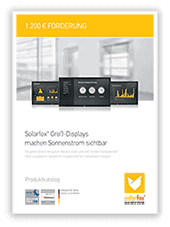 COMPATIBLE WITH SF-600 55″